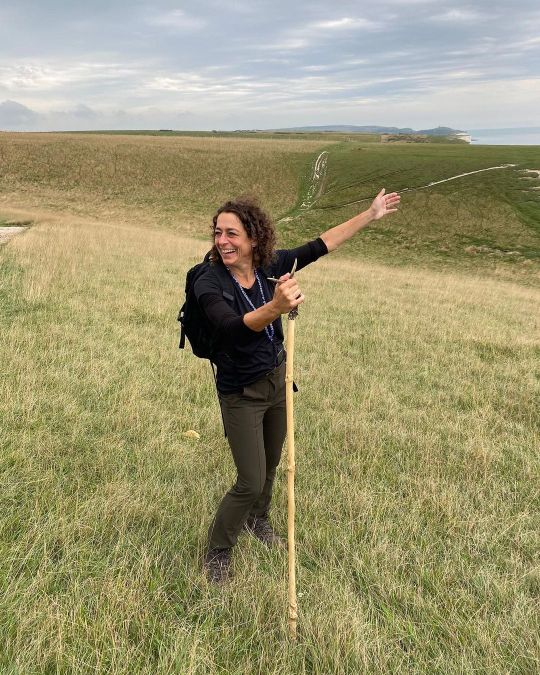 The Star is a heavenly base for walkers
Following the success of Alex's guided walks, the hotel is introducing a Rambler's Retreat hosted by Alex Polizzi and writer Lizzie Enfield.
The Star, owned by mother daughter duo, Olga and Alex Polizzi is ideally situated for lovers of the outdoors. In the South Downs National Park, and a short walk from Friston Forest and The Seven Sisters, there are numerous routes across varied terrain for ramblers to choose from.
Guests will arrive on Monday and go straight out onto the Downs for a walk lead by Alex Polizzi. This first route will take guests to Windover Hill, to the top of Jevington Holt, Lullington Heath Nature Reserve, Friston Forest and ending in Litlington. A delicious three course dinner will be served on the Monday night.
After a restful night's sleep and a hearty breakfast, guests will meet local author and walker, Lizzie Enfield for a full day's Pilgrimage of The South Downs. Established in 2018, the Cuckmere Pilgrim Path is a circular route of approximately 12 miles which takes walkers on a pilgrimage around seven ancient churches. The route passes through the beautiful landscape of the South Downs and Low Weald and around the Cuckmere River, which cuts through the Downs and passes the village of Alfriston before it reaches the sea at Cuckmere Haven. A packed picnic lunch will be prepared by chef. Historically the river would have been the main route along which traders passed bringing goods and stone used to build the churches and monasteries. In a clockwise direction the route circles to the west via Berwick, Alciston and Selmeston before crossing the Cuckmere River and returning to the east of the river via Arlington, Wilmington and Lullington. Each of the seven churches has a unique feature: from a 1600-year-old yew tree and a tiny 'tub' organ, to contemporary stained glass and early 1920's frescoes. On Tuesday evening another delicious dinner awaits you.
On Wednesday morning, Alex will host the third and final walk from Exceat, over the stunning Seven Sisters, and back through Friston Forest.
Set off across the South Downs Way in search of sea air from The Star in Alfriston
Condé Nast Traveller
Itinerary
Monday
14.00 Arrival at The Star
14.30 Walk with Alex Polizzi
17.30 Return to The Star
19.30 Dinner
Tuesday
07.30-9.15 Breakfast
09.30 South Downs Pilgrimage walk with Lizzie Enfield
16.00 Return to The Star
19.00 Dinner
Wednesday
07.30-09.15 Breakfast
09.30 Walk with Alex Polizzi
13.00 Departure
The walks included on this retreat are long, on varied terrain and only suitable for experienced ramblers. Guests are very welcome to bring dogs to The Star, and to bring their four-legged friends on this walking break.
From £510 in April, per person, based on two people sharing a Classic Terrace room including breakfast, two dinners (£60 allowance per person, per night, excluding drinks), one picnic lunch and all three guided walks.
The Star
01323 870495