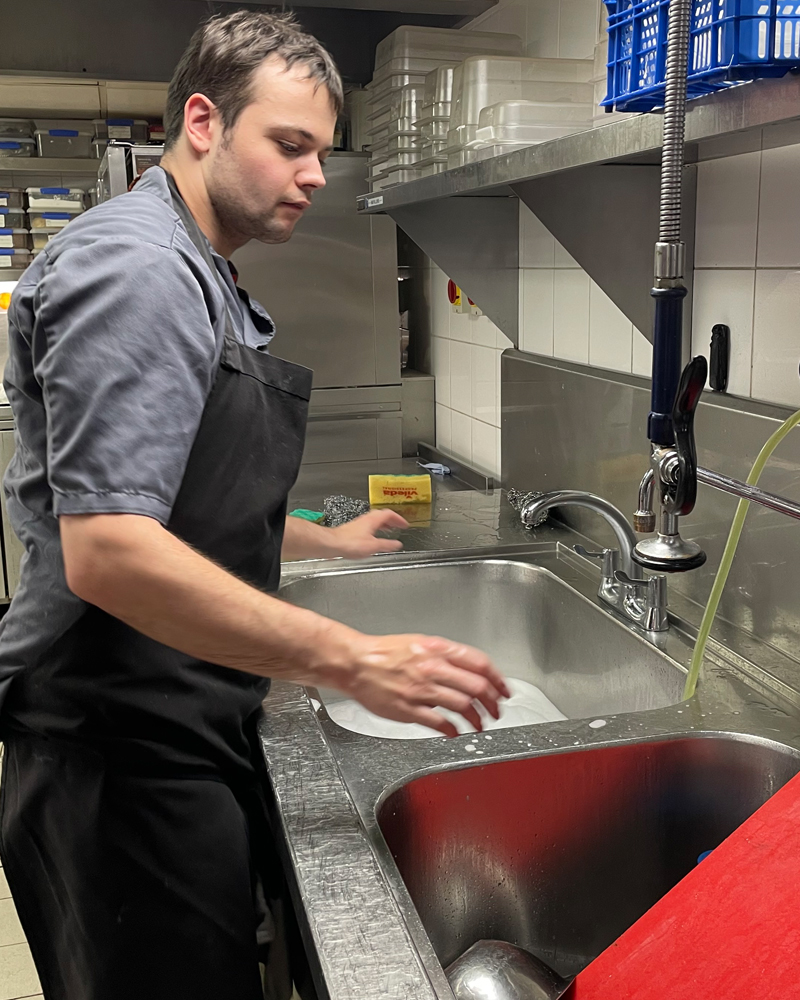 'The team here are fantastic to work with and have a laugh with. Whilst working here my confidence has grown and I have high respect for the team. I will always be grateful for being here and I am looking forward to climbing the ladder at this amazing hotel and the amazing people I work with.'
Meet David Kneebone, Kitchen Porter
David has been part of our Tresanton Family since May 2019. A valued member of our kitchen team, David always has a smile on his face, he keeps everyone cheery whilst working very hard to maintain the cleanliness in the kitchen and ensuring that both the culinary and restaurant teams always have clean pots, pans, crockery, glassware, cutlery and the odd sack of potatoes!
It's been a tough couple of years for everyone but David has never faltered. Often working extra days or coming in at short notice to ensure that the team are supported during busy periods.
David was born and bred in Cornwall, he enjoys many outdoor activities such as fishing, swimming, spending time with his sheep dog, Meg, and during the various lockdowns, sharing his passion for cooking and baking with the team on our WhatsApp group. Such was his passion for baking that he has also supported the pastry team for a short time last year! Congratulations on your achievements David and thank you from us all for your determination, work ethic and very cheery disposition.
You are a true Polizzi star!
Hotel Tresanton
Chef
From £11 per hour, plus service charge
Flexible
Housekeeper
£11 per hour plus 12.5% service charge
Full time
Kitchen Porter
£10.25 per hour, plus service charge
Porter
£10.25 per hour, plus service charge
Receptionist
£10.50 per hour, plus 12.5% service charge
Full time
Waiter/Beach Club Server
or paid Intern
£11 per hour plus 12.5% service charge