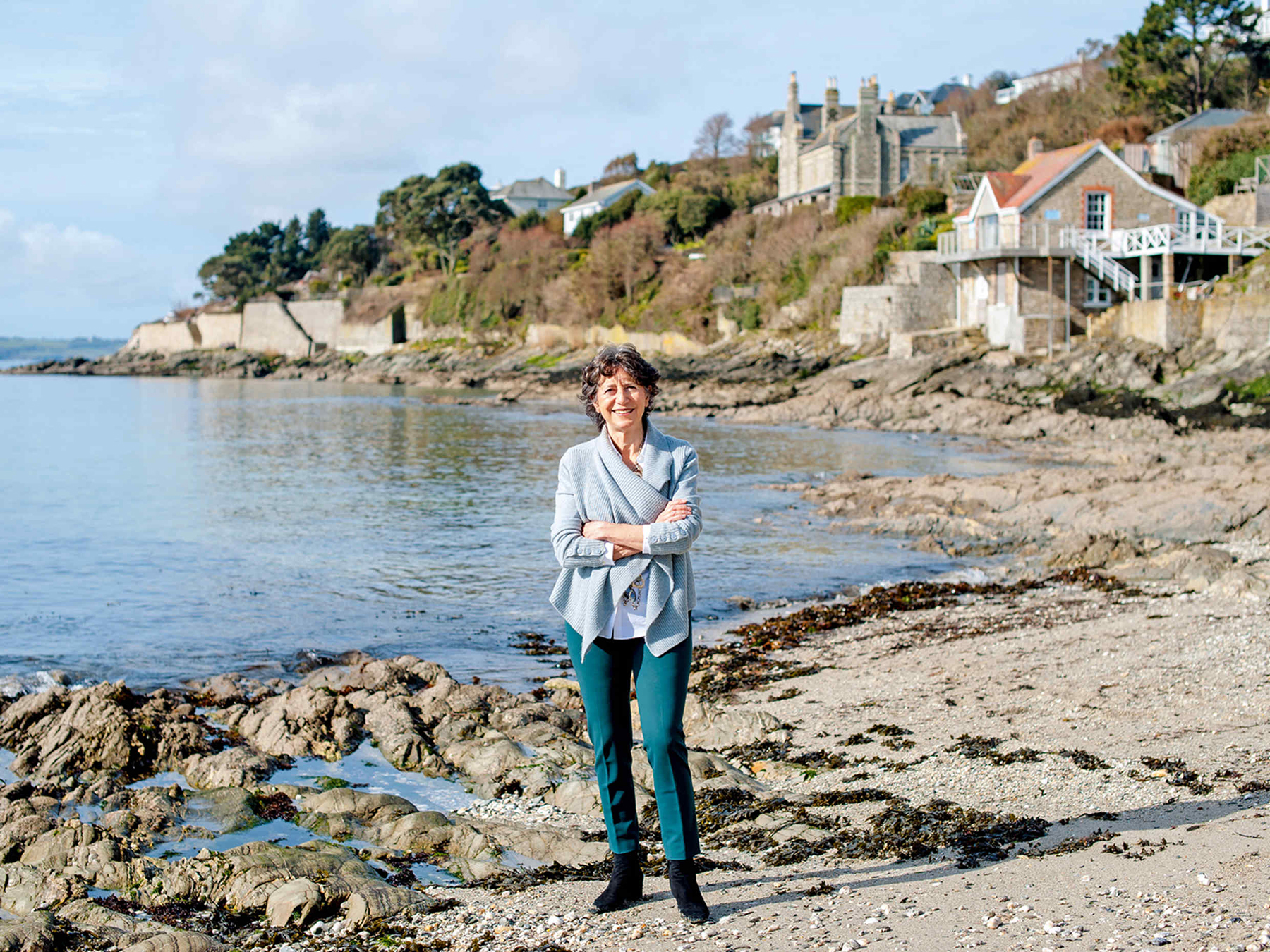 Rocco Forte's design director takes Christina Ohly Evans on a seaside sojourn of slick sailboats, sculpture gardens, sublime seafood and secret hideaways
I came to Cornwall late in life and fell in love with it straight away. My husband has been coming here all his life; I was introduced to the area 28 years ago and it was a revelation. Cornwall feels like another country – the pace is slower, the light is beautiful and, because the Gulf Stream passes right by, the weather is that much milder. You'll feel very connected to nature here – the sea, the rocks, the beach – and the people are also incredibly kind. It feels like a particularly vibrant area now, with new restaurants and art galleries adding to the cultural mix. Best of all, you can walk the Cornish coastal path for miles, and while the going isn't always easy, it is beautiful throughout the seasons.
Of course, I recommend a stay at Hotel Tresanton, the eclectic little inn that I looked at for two years before buying. It was formerly a yacht club; the collection of buildings was in total disrepair when I acquired it, but we've managed to create a very relaxed, almost Mediterranean-meets-New England getaway where each of the 30 rooms has a different feel – and a view of the sea. It's a wonderful place if you like sailing, and we have a magnificent 8m classic yacht named Pinuccia that's available to our guests. She was built in 1939 to race for Italy at an international competition and from May to the end of September, our skipper Mark will take you sailing around Falmouth bay – one of the most beautiful places for boating in Britain.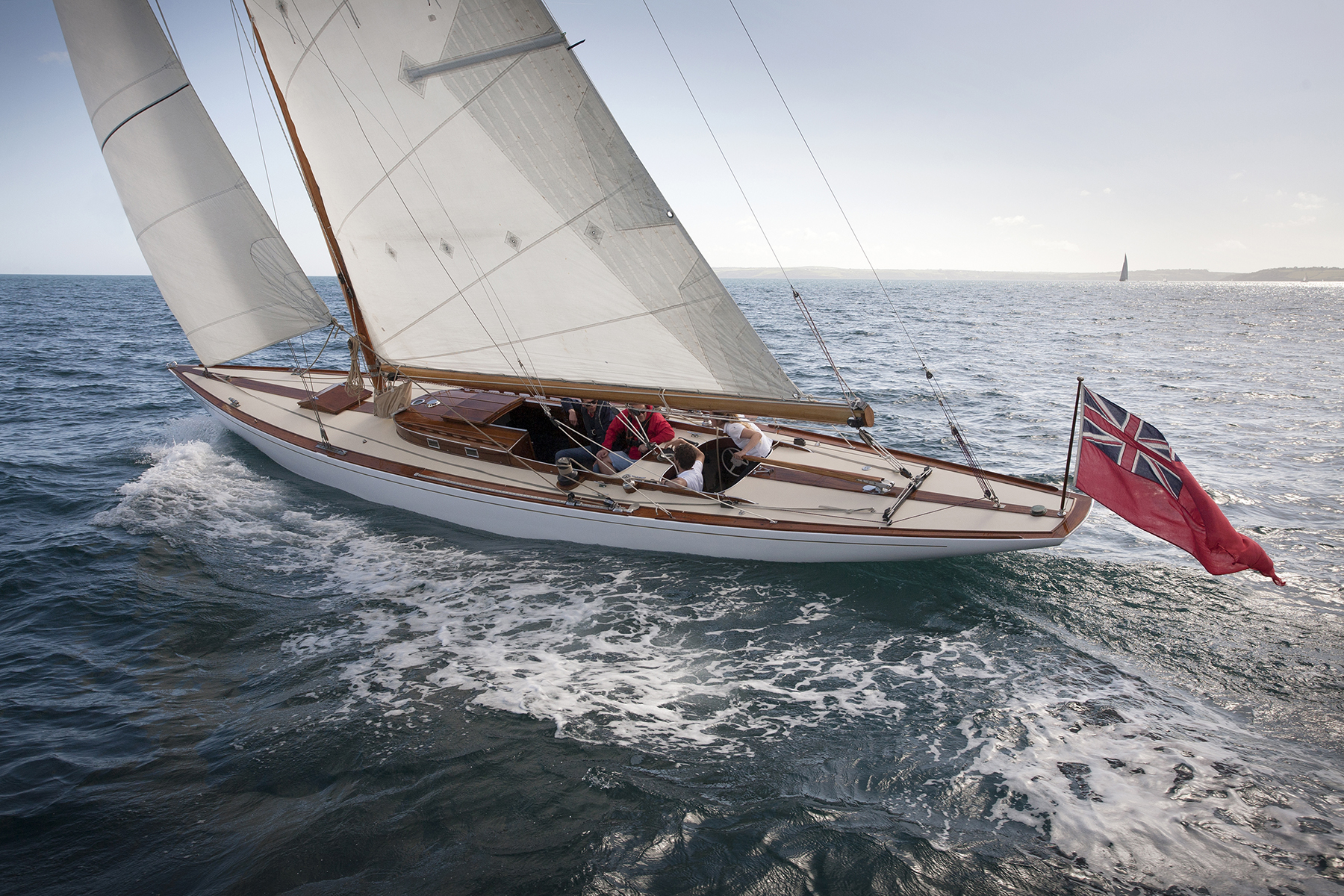 I furnished the rooms with antique finds from Penzance and paintings from the Lemon Street Gallery, in Truro; its offerings are as good as anything you'll find in London, so I am constantly adding to the hotel's collection of contemporary Cornish and more traditional art.
The village of St Mawes, with the boats bobbing in and out of the harbour, is the perfect, quaint seaside spot for a good meal or a bit of retail therapy. I always recommend The Watch House, where chef Will Gould will give you a very good, seafood-centric meal. In terms of stores, the village has a tiny but very well stocked delicatessen called Mr Scorse, which is owned and run by Jon Scorse – a friend who used to work at Tresanton. He sells a very good homemade pesto, all sorts of jams and honey, and delicious Cornish gins.
From St Mawes you can take a lovely walk past one of Henry VIII's castles, which was built in the 16th century to protect the English coastline. You'll stroll through fields along the seaside for about an hour before reaching the St Just in Roseland church. Built in the 13th century, it has one of the prettiest churchyards in England, right on the water.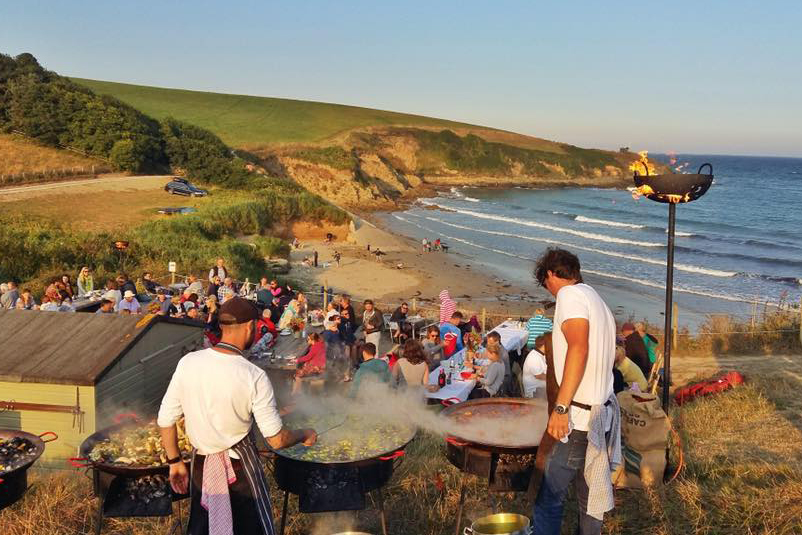 Summer is the perfect time to take the ferry from St Mawes across to Place Creek, and walk either to St Anthony's Lighthouse or the Hidden Hut, which serves excellent seafood chowder and freshly baked bread, overlooking the pristine Porthcurnick Beach on the Roseland Peninsula. It's a casual spot, a favourite with locals who come for the bespoke ice cream flavours that's made with Cornish clotted cream or, in season, an excellent elderflower cordial. If one is motivated, however, the coastal path extends for many more miles from here. This area is a true walker's paradise.
I love going to St Ives, and always make a point of stopping at Leach Pottery outside town. Bernard Leach was one of Britain's best-known potters; he trained in Japan and came back to St Ives where he started his own kilns. He died many years back, but the exquisite ceramics tradition continues here – there is regularly an artist in residence and it's a good place for picking up interesting pieces. There's also Tate St Ives, which has been enlarged and has a very good collection of Cornish art, and I always discover emerging artists at the Penwith Gallery. The Barbara Hepworth Museum, with its lovely sculpture garden, is another must.
In St Ives there are several good restaurants, but my favourite is the Porthminster Beach Café, overlooking the bay and Godrevy Lighthouse beyond. The cuisine has an Asian influence with Cornish ingredients. Everything is fresh, from the vegetables and herbs that come from the back garden to the Porthilly oysters and monkfish served with a tangy curry.
If you want to go a little further afield from St Ives, take the coast road – one of Britain's most beautiful – to Zennor, and to the best gastro pub I know: The Gurnard's Head. It has a very limited menu, which I like because it means that everything – mussels, grilled plaice – is fresh. From Zennor, go on to Porthcurno, which is almost the most westerly point of Britain. (Don't go to Land's End, however, which is the most westerly point and is rather disappointing.) In Porthcurno there's the Minack Theatre, perched on the cliffs high above the Atlantic Ocean. It was built between the two world wars and continues to put on plays, concerts and operas every summer in the open air. The stage is set with its back to the sea and the whole thing is very dramatic. The Telegraph Museum here is also worth a look. Over 150 years ago, submarine telegraph cables were laid from here all the way to India. In 1928, the Eastern Telegraph Company merged with Marconi's Wireless Telegraph Company and this paved the way for today's worldwide communications system.
From Porthcurno, drive to Mousehole, known for its exquisite circular harbour, and on to Newlyn, one of the largest fishing ports in Cornwall. I always visit the Newlyn Art Gallery, and from there I highly recommend a walk along the promenade to the Jubilee Pool, the newly restored, enormous outdoor pool that's set into the sea. You can't leave Newlyn without having a Jelberts ice cream. It only serves vanilla – with a dollop of Cornish clotted cream on top – but it's simply the best.
Another place that I can go to again and again is the Lizard, a part of Cornwall that is weird, wild, wonderful and a little bit spooky. In Church Cove there you will find the tiny, ancient Gunwalloe Church in a sandy cove on the beach – very moving and romantic. Nearby you can buy lighthouse statues made of Cornish Serpentine marble. I always buy the old ones when I see them.
On the way back to London, Coombeshead Farm near Lewannick is a wonderful bed and breakfast between Cornwall and Devon, nearer to our Hotel Endsleigh than to Tresanton. It's just 20 miles from Dartmoor National Park and it's an intimate, magical place. The owners are the acclaimed chefs April Bloomfield and Tom Adams, and they serve absolutely delicious food, grown and picked by them, on their own land. Don't leave Cornwall without visiting Rick Stein's The Seafood Restaurant on the north coast. Rick is still Cornwall's most famous chef, and thousands of people come to Padstow every year to eat his simply prepared, incredibly flavourful seafood.
Cornwall is having a moment; I think that's because life is much easier here than it is in London. People are helpful, you're surrounded by nature and there is a large creative community that's being drawn to the Falmouth School of Art, among other places. I remember not so long ago when I had to bring all my produce down from London, and now you can find all kinds of unusual vegetables and virtually every type of cuisine. Much of life in Cornwall remains the same, but I like that new energy."
RESTAURANTS AND CAFES
Prices are for three courses with half a bottle of wine, where applicable. The Gurnard's Head, Zennor TR26 3DE (01736-796 928; gurnardshead.co.uk), from £32. The Hidden Hut, Porthcurnick Beach, Portscatho TR2 5EW (hiddenhut.co.uk), from £4. Jelberts, 2 New Road, Newlyn TR18 5PZ. Porthminster Beach Café, St Ives TR26 2EB (01736-795 352; porthminstercafe.co.uk), from £35. The Seafood Restaurant, Riverside, Padstow PL28 8BY (01841-532 700; rickstein.com), from £41. The Watch House, 1 The Square, St Mawes TR2 5DJ (01326-270 038; watchhousestmawes.co.uk), from about £35.
TREATMENTS
Treatment list
SHOPS
Leach Pottery, Higher Stennack, St Ives TR26 2HE (01736-799 703; leachpottery.com). Lemon Street Gallery, 13 Lemon Street, Truro TR1 2LS (01872-275 757; lemonstreetgallery.co.uk). Mr Scorse Gourmet Deli & Wines, 1 The Arcade, St Mawes TR2 5DT (01326-270 045; mrscorse.com).
SIGHTS AND CULTURE
Barbara Hepworth Museum, Barnoon Hill, St Ives TR26 1AD (tate.org.uk). Jubilee Pool, Battery Road, Penzance TR18 4FF (01736-369 224; jubileepool.co.uk). Minack Theatre, Porthcurno TR19 6JU (01736-810 181; minack.com). Newlyn Art Gallery, New Road, Newlyn TR18 5PZ (01736-363 715; newlynartgallery.co.uk). Penwith Gallery, Back Road West, St Ives TR26 1NL (01736-795 579; penwithgallery.com). Tate St Ives, Porthmeor Beach, St Ives TR26 1TG (01736-796 226; tate.org.uk). Telegraph Museum Porthcurno, Eastern House, Old Cable Lane, Porthcurno TR19 6JX (01736-810 966; telegraphmuseum.org).
WHEN TO GO
The weather in Cornwall is best from May to October; tourist numbers peak in August.
HOW TO GET THERE
If you're not heading west on the M4 from London, the Great Western Railway (gwr.com) offers a high-speed service from Paddington to Penzance; there are also direct trains daily from Bath and Bristol to Cornwall via National Rail (nationalrail.co.uk).
Tate St Ives
& Barbara Hepworth Sculpture Garden
Until 11 Jun
Caerhays Spring Garden
All year
St Mawes Ferry
Take the ferry to Falmouth
Mar-Dec
Pirates
National Maritime Museum Falmouth
27 May-4 Jun
Open Studios Cornwall
17 Aug
Sextets
by Brahms and Boccherini
24 Aug
The Invisible Monkey