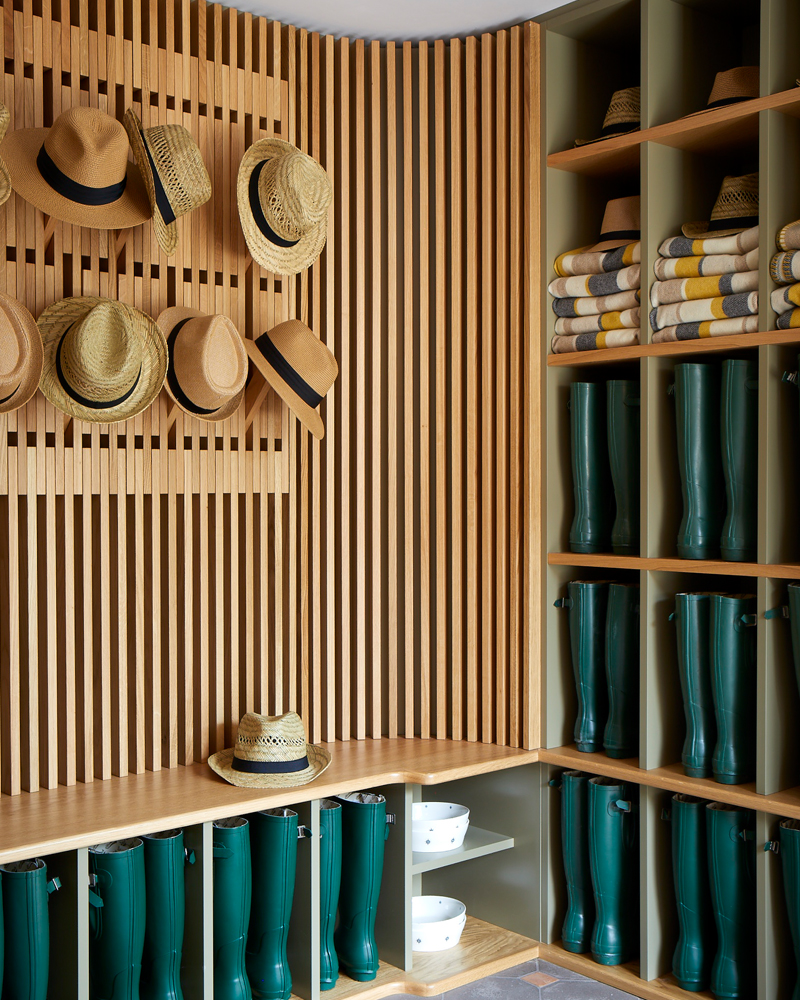 'The Star is a 15th century inn, with additions from the 1930s and 1960s, located in Alfriston, a traditional downland village with medieval roots.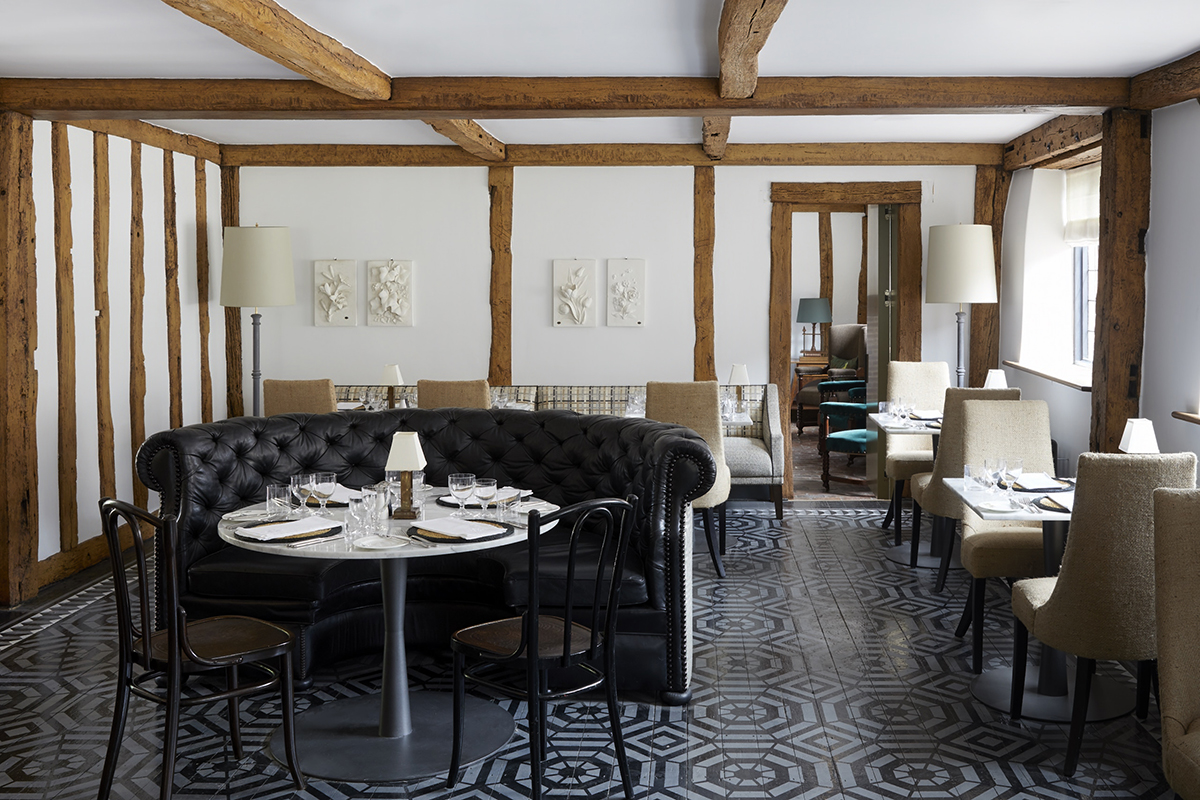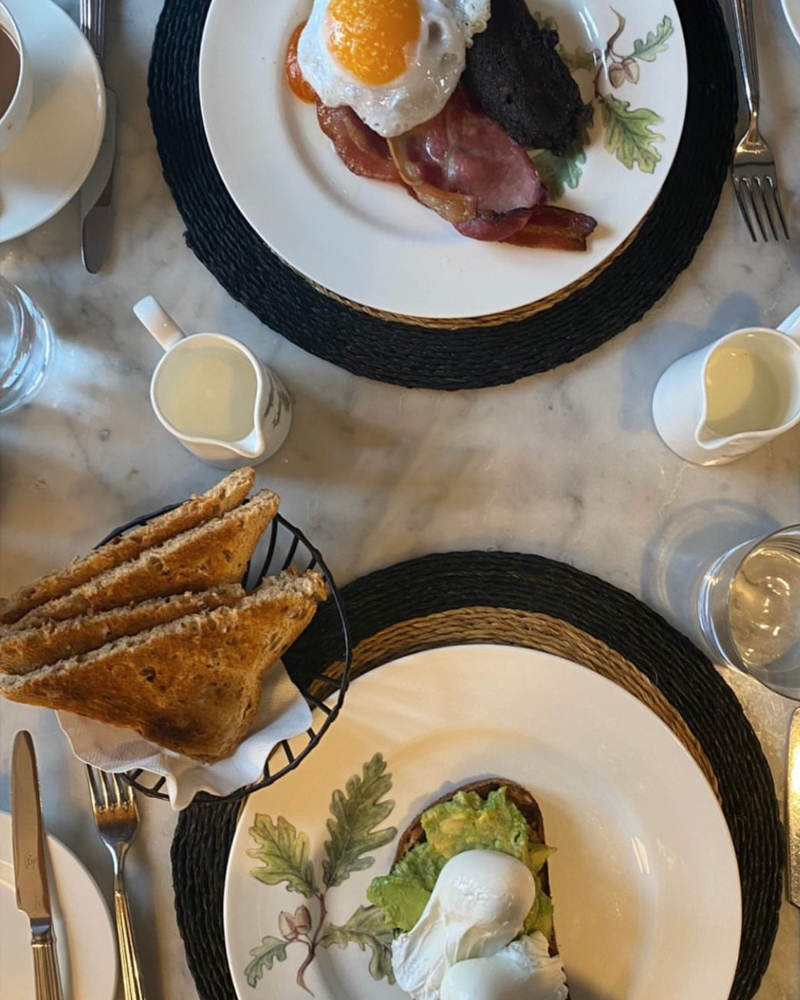 Restaurant
This long, light room with a wooden floor has been stencilled by Amanda, a brilliant local craftswoman, with a specially designed Elizabethan pattern in black and white. The tables are made in Italy of Carrara marble, the inherited chairs are covered in rough hessian. A stunning 16th century sideboard, three metres long, is the centre-point of the room.
Breakfast and dinner will be served in the restaurant, which is also open to non-residents. At the far end is a small, newly formed courtyard filled with flowering pots and an ancient stone goat on a large plinth.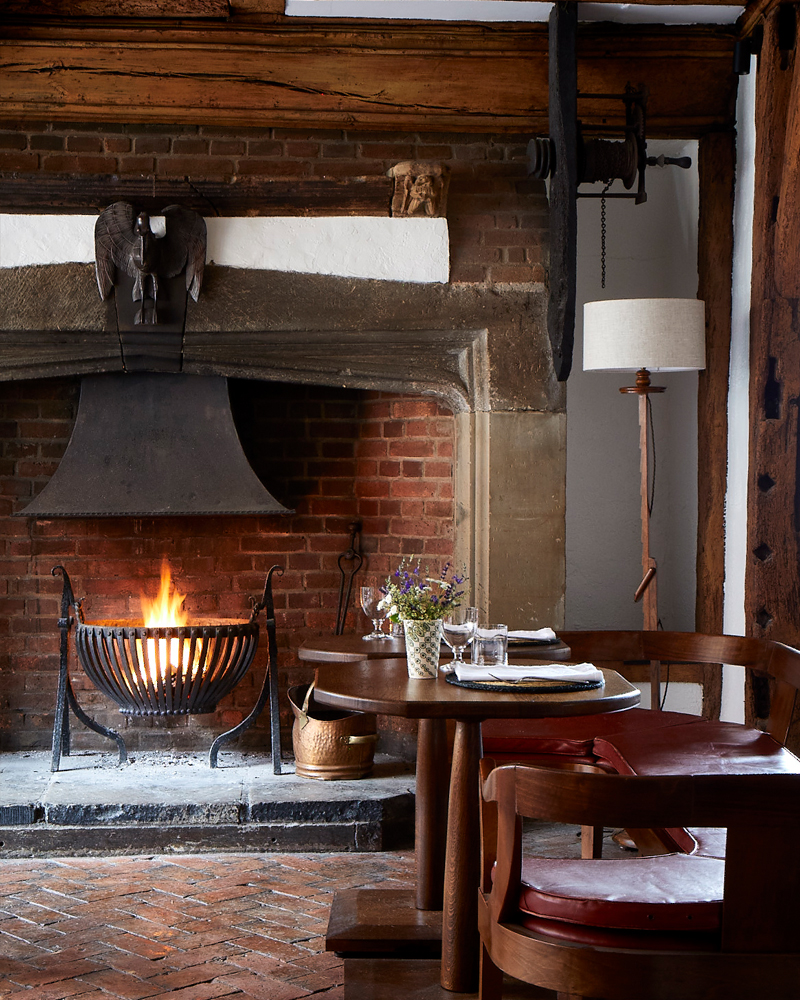 The Inn
An extensive, heavily beamed bar area with two large open fires which are lit all winter. Tom, the local blacksmith, has made us long wrought iron lights, copied from a centuries-old design, which form part of the atmospheric lighting. The Inn is the oldest part of the hotel; little has changed since Tudor times. This area serves beers and lagers from Harveys, our local brewer, as well as other drinks. Food is served from late breakfast to early dinner.
Courtyard
Backing onto the bar is a large outside courtyard with stone and brick flooring, created by demolishing some of the ugly 60's building. Old iron trellises on the brick walls feature winter flowering Clematis and Holboellia. Drinks and food are served in the courtyard all day.
'There are two wonderful still lifes by Vanessa Bell near the dining room and a portrait of a young sailor by Duncan Grant in the reception area, reminding guests that no one should miss a visit to Charleston Farmhouse, the famous Bloomsbury set headquarters a mile or two up the road'
House & Garden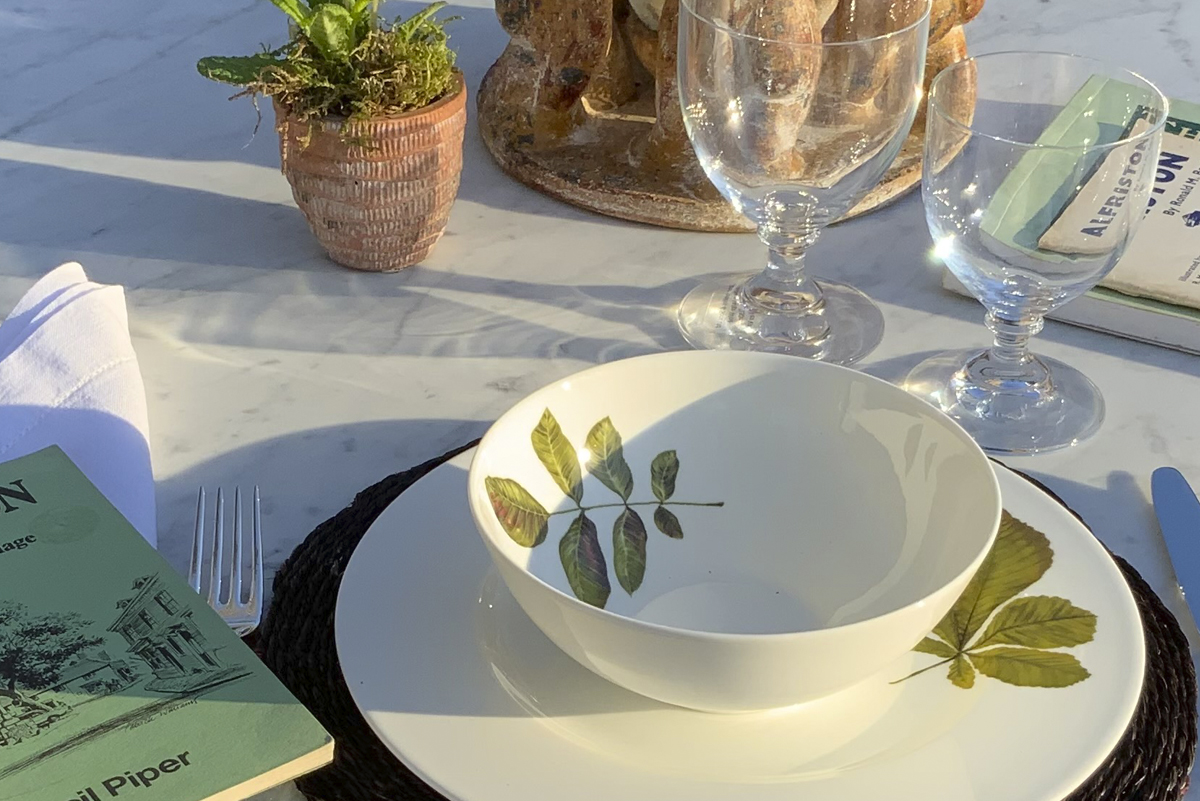 Library
There is a small library, well stocked with books about the local history and surroundings as well as a wide range of other interesting subjects. It is a quiet area with a wood burning stove and comfortable seating.
Bedrooms
There is a mixture of bedrooms, some in the new block, some in the body of the hotel. The nine standard rooms on the ground floor have new French windows that bring in a lot of light and open onto small patios with a breakfast table and chairs. Dogs are welcome in these rooms. On the first floor there are nine pretty, light filled rooms with Juliet balconies. They are wallpapered in green or blue and have brightly coloured, patterned materials on curtains and headboards.
All these rooms have small bathrooms with large showers.
There are four Junior Suites in this new block, one with its own small terraced area. These suites have large bathrooms with both showers and baths.
In the main hotel there are seven rooms, two are Junior Suites and probably the nicest rooms in the hotel. The rest are all pretty, some with large bathrooms, and all with different looks and colours.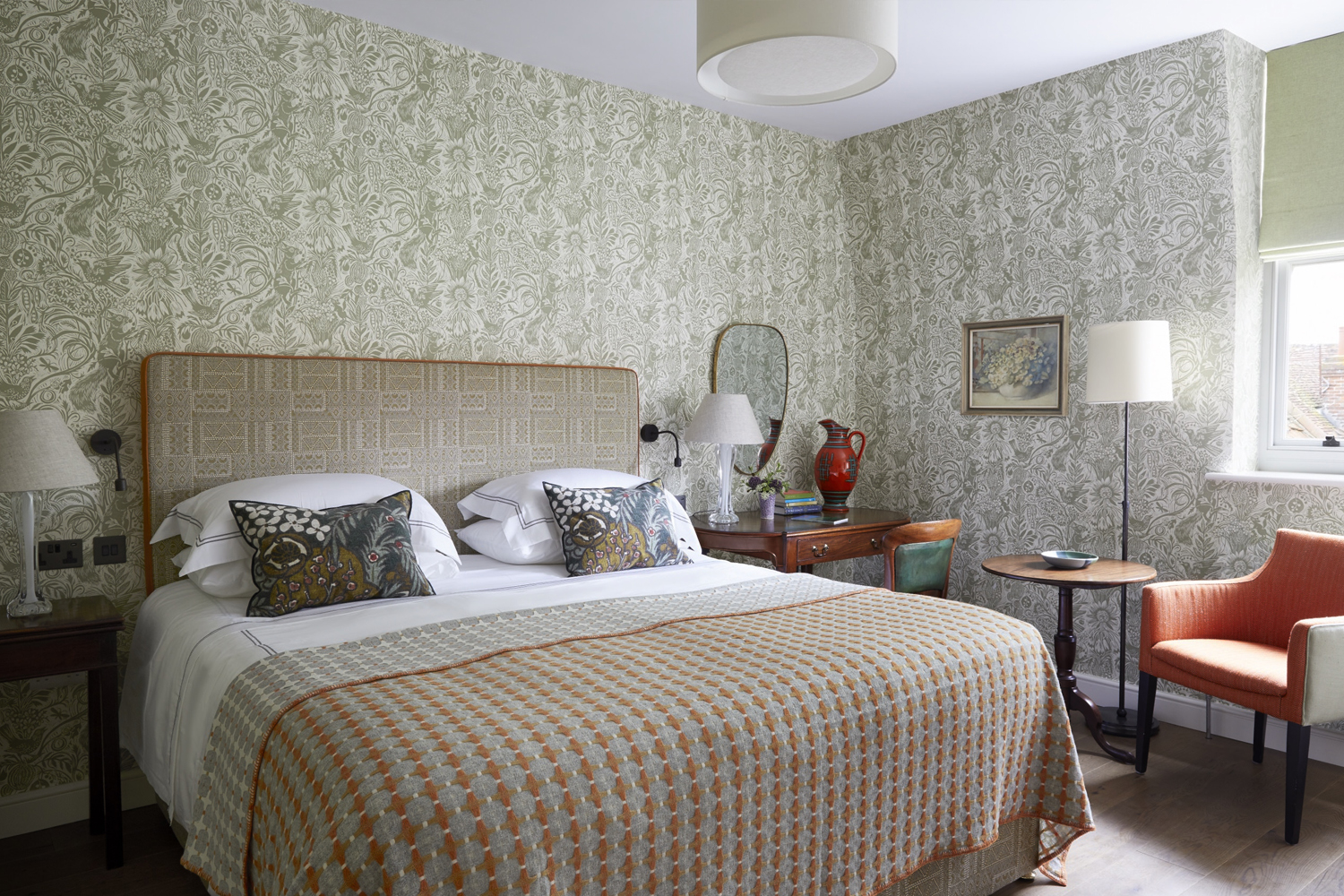 The village of Alfriston itself plays a starring role in the hotel. There's an eclectic mix of furniture, sourced with help from Diana Kelly, found a few doors down. Flowers are artfully arranged by local florist Julia Marsden. Beautifully-printed fabrics and delicate wallpapers are by Richard Smith of Madeaux Home, while local artist Amanda Lawrence has painted the restaurant floor with a bold Elizabethan design. Even the hotel library, dotted with antiques and curiosities, has a local touch – with the books curated by Much Ado Books – an award-winning bookshop in the village.