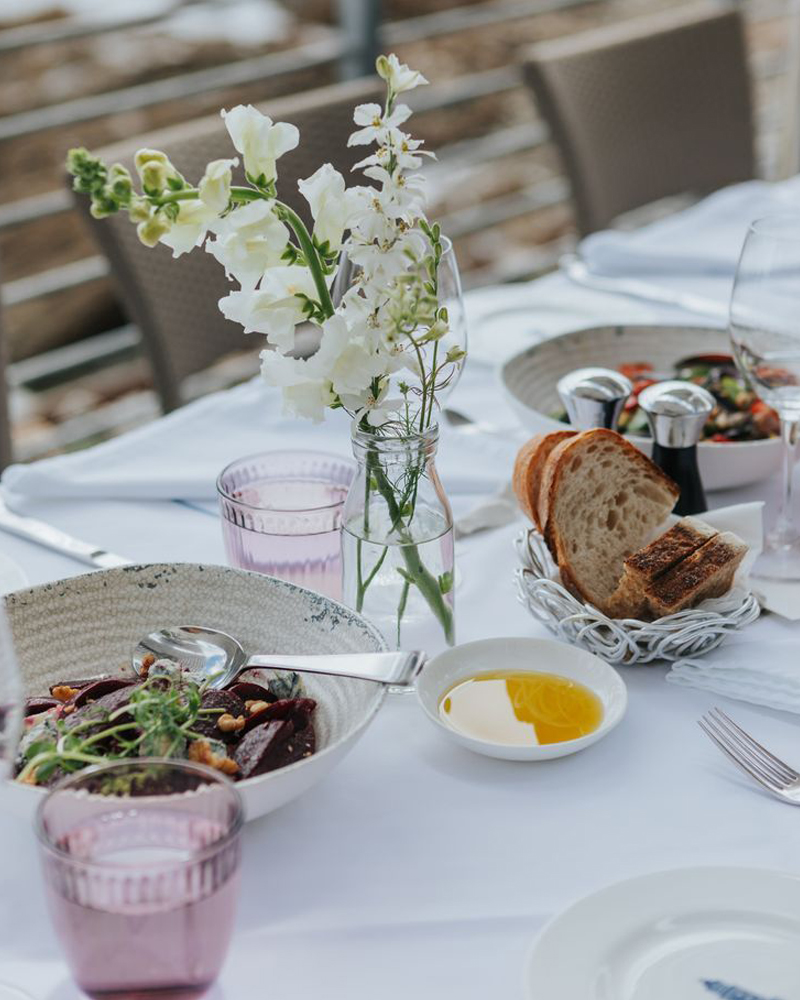 Our Head Chef Paul Wadham has been at the helm for 20 years. When you choose to hold a special event here at Tresanton, Paul will work with you to create your perfect menu. Paul works with the finest local suppliers to source the best in seasonal produce for you. Wine can be paired and cocktails can be created, ensuring everyone is in the best spirit and toasting to you.
Due to the nature of the dishes we serve at Tresanton, we require a set menu of one dish per course for the whole party, with the addition of a vegetarian choice provided if required. We can also offer a children's menu and can take care of any dietary requirements with advance notice.
The cost of your menu will be confirmed once your menu has been finalised. As a guide to costs, a three course menu is from £90.00 per person, summer barbeques are from £75.00 per person, canapes from £30.00 per person. Children's menus are priced at £15.00 per child (up to the age of 10 years old), cream tea is priced at £12.00 per person and our late night evening snacks offering of pasties and cheese is from £12.00 per person.
All dietary requirements and allergies are taken into consideration when planning your menu and we will be able to accommodate any should we have advance notice.
To inspire you and get your creative juices flowing, we have detailed below some dishes we have served at recent events. Please use these as an insight into the style of food we offer, as we take great price and enjoyment in creating your own bespoke menu.
Menu ideas
STARTERS
Crab, confit tomato, quails egg, avocado, crostini
Dived scallops, pancetta, romesco sauce
Wild native oysters, shallot vinegar
Lobster spring rolls, vegetable slaw
Tuna tartare, creme fraiche, cristini, caviar
Red mullet, sauce vierge, basil mayonnaise
Duck liver parfait, apple chutney, sourdough
Deli Farm charcuterie, bruschetta, pickles
Beef tartare
MAIN COURSES
Brill, capers, lemon, parsley, asparagus new potatoes
Half lobster, chips, green beans, basil mayonnaise
Wild bass, chargrilled courgette, aubergine, peppers, olives
Cod, rosti potato, steamed clams, tomato, spinach
Monkfish, peas, onions, pancetta, pea shoots, new potatoes
Hake, broccoli, green beans, spinach croquette
Fish pie, mash potato, green beans
Turbot, hollandaise, spinach, new potatoes
Moorland beef fillet, mushroom croquette, celeriac, oyster mushroom, pancetta
Sausages, mash potato, streaky bacon, onion
Lamb cutlet, potato gratin, green beans, confit tomato
Roast pork belly, celeriac, red onion, carrots, apple
Terras Farm duck, polenta, spinach, mushrooms
DESSERTS Served with homemade ice cream or sorbet
Chocolate fondant
Gateaux Opera
Pavlova, seasonal berries
Baked cheesecake
Bread and butter pudding
Dark chocolate mousse
Creme caramel
Lemon tart
Hot chocolate mousse
Apple tart tatin
Vanilla grappa pannacotta
Orange cake
CANAPES
Our Head Chef Paul has detailed below some of his favourite canapes to serve. Some ingredients are seasonal, therefore they may not be available at the time of your celebration. We suggest a selection of four canapes in total, with four provided per person.
MEAT
Scotch quail's egg
Cured ham, rocket
Beef or duck spring rolls
Duck liver parfait, apple chutney, sourdough
Harissa marinated chicken skewer
FISH
Smoked salmon, creme fraiche, caviar
Crab and quail's egg
Breadcrumbed scallop lollipop
Fish goujons, tartar sauce
Mackerel bruschetta
Porthilly oysters
Scallops, rosemary, pancetta
VEGETARIAN
Grilled asparagus
Buffalo mozzarella, tomato, basil
Arancini, peas, spinach
Vegetable samosa
Gorgonzola and hazelnut tart
Courgette pizzette
Baked Boy Laity, caramelised onions, bruschetta
Summer vegetable roll
Tartlet, mushroom fricassee (vegan)
Polenta chips, roasted peppers, olives (vegan)
Hummus and crudite (vegan)